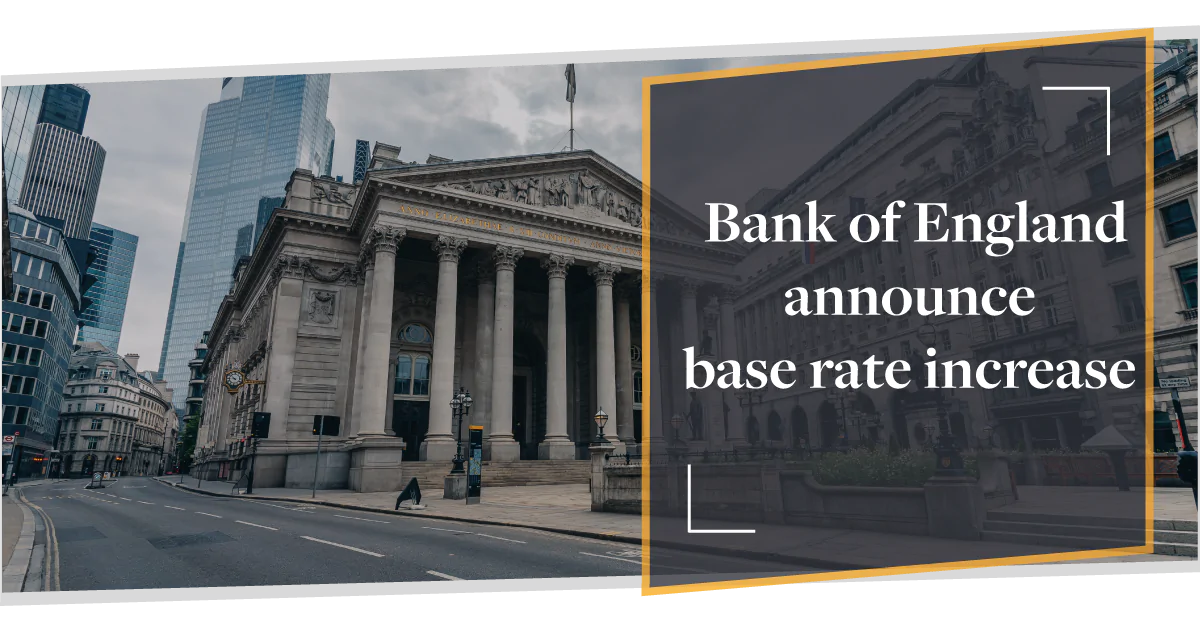 May 5th, 2022
In the wake of increasing energy prices, elevated inflation and general cost of living increases. The Monetary Policy Committee (MPC) have today announced that the UK base rate is to increase to 1%.
This falls in line with the projected inflation to rise to 9% in April this year before "averaging slightly over 10% at its peak in Q4 2022."
In March the BoE increased the base rate to 0.75 and the continued rise announced today was to be expected.
Simon Butler | Head of Mortgages CMME said "Another month, another base rate increase – the outcome was almost a certainty from today's Monetary Policy committee meeting and a majority vote highlights how serious the Bank of England are taking the ongoing threat of inflation and the cost of living. This increase brings the base rate to the highest level seen since 2009, adding fuel to the concern that a recession is a very real threat to the UK economy.
The BOE has warned that inflation could reach 10% by the end of 2022, matching levels seen almost 40 years ago. It now appears to be safe to expect further rate rises this year, with three MPC members having voted for an increase of half a percentage point rather than the quarter seen today. Mortgage lenders were already pricing in the potential increase last week so it's realistic to expect this trend to continue on a weekly and monthly basis for the time being."
What does this mean for my mortgage?
Some lenders had already anticipated the move and decided to change rates to mortgages early, the same as they had in December and February. Those who had fixed their rate before these changes will be unaffected until the term of their current product ends. Mortgage customers on variable-rate mortgages will see the impact imminently.
If you are unsure about your mortgage deal, please speak to your CMME mortgage broker HERE.
Despite this increase in the mortgage rate, the early positive sign is that there are still plenty of competitive mortgage products available for potential and existing homeowners.
Another issue for self-employed?
CMME recently reported on the unfair treatment the self-employed community perceive they have when applying for a mortgage, with two-thirds of people worried they would be penalised for being self-employed when applying for a mortgage.
The good news is that although the rate does mean that you may be paying more for your mortgage, the lending criteria for most mortgages have remained largely the same. Although, due to changing remortgage rates with lenders, CMME Brokers are advising clients not to wait around before making a decision on their mortgage plans if they are considering a remortgage or property purchase.
Market commentators continue to predict further base rate increases in 2022, with a key factor in any rises being the impact of higher living costs for UK households. Balancing the need to increase rates while not overburdening homeowners with surging mortgage payments is going to be a difficult task for the central bank"
What can I do to make sure my mortgage is still competitive?
Review your Mortgage:
As mentioned, if you are already on a fixed rate then you will remain on your current rate until the fixed term ends. If your mortgage is due for renewal in the next 6 months, then now may be the right time to discuss remortgaging or transferring to a new product with your existing lender.
Make sure you're on the best deal:
As with most things, mortgages are offered, with a wide range of different products available from many lenders. Reviewing the whole market is always a good decision, generally, when discussing a new deal CMME will look at many options, plus exclusives to ensure you get the best rate for you as a contractor or self-employed worker.