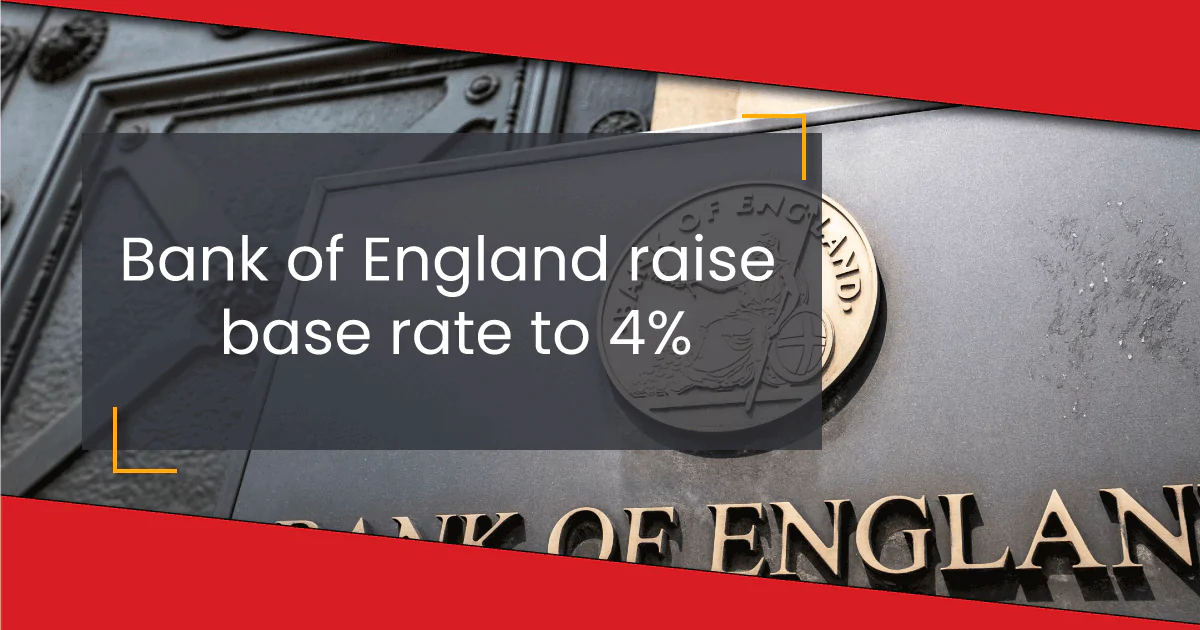 February 2nd, 2023
At the end of 2021, interest rates sat at 0.25%. As we move through the increases of 2022 and into 2023 The Bank of England (BoE) has now announced its latest increase this month to 4%, the 9th Consecutive increase in that period – here's what you need to know.
What has changed with mortgage rates since December 2021?
The first in the string of recent base rate rises happened in mid-December 2021 and saw a rise from 0.1% to 0.25%. The next came at the start of February 2022, when the rate rose again to 0.50%. On 17th March, it reached 0.75%. On 5th May, it stood at 1%. On 16th June, it climbed to 1.25%.
As of Thursday 2nd  Feb, the base interest rate stands at 4%. This means that mortgage rates are at their highest level in 14 years.
Further pressure on mortgage holders?
Mortgage rates are climbing because the BoE base rate is rising as the country attempts to fight rapidly increasing inflation, although, in the last couple of weeks, this has begun to flatten.
It is already reported that 1.4 million mortgage holders are due for renewal in 2023 which could mean higher payments, especially if you fixed a rate while they were low.
For many borrowers this will mean moving to the lenders standard variable rate (SVR), at the moment is sitting at an average of 6.85% according to Uswitch. The average fixed rate sits somewhere in between the mortgage base rate of 4% and the lender's SVR.
What if I am on a tracker mortgage?
If you are on a tracker mortgage you will be tracking the base rate change plus the percentage agrees at the time of the tracker. Depending on the rate this may be lower or higher than a lender's fixed product.
This comes with some advantages for borrowers as it gives the flexibility to move onto a fixed rate at a later date with no fixed penalty in some cases. The obvious drawback however is that if the base rate moves again you will be moved onto the higher rate as part of the tracker function
What can you do if you are concerned about the raising interest rate? Head of Mortgages Simon Butler explains:
"An increase to the Bank of England base rate will impact anyone on a tracker rate but there will be no hit to anyone with a fixed product. Mortgage lenders widely expected the increase but have not priced this into new deals. We have in fact seen lenders come with more competitive rates to attract business, but it is uncertain how long these "price wars" will last."
He went on to say "Sitting on the fence is not the best option at present; most reversion rates offered as standard are considerably higher than many competitive tracker rates and lenders are offering freedom to fix without further financial penalty.
We are urging clients to reach out to us as soon as they are able, usually about 6 months from their renewal to discuss their next steps."
How can I manage the interest rise effectively on my mortgage?
Whilst there isn't a surefire way to ensure you're not hit by an increase in your mortgage payments, there are some tips to help manage the increase effectively at CMME we are always finding effective ways to help clients where we can and have plenty of short-term and longer plans.
Ultimately you should reach out as soon as you can (about 6 months from renewal) to discuss your next product and let us do the work for you. The most suitable product could be with your current lender, or alternatively moving you to a new lender and potentially a more competitive rate.
If you would like to discuss your mortgage renewal then please Contact Us or Call 01489 555 080 or alternatively email enquiries@cmme.co.uk or contact your existing CMME broker.