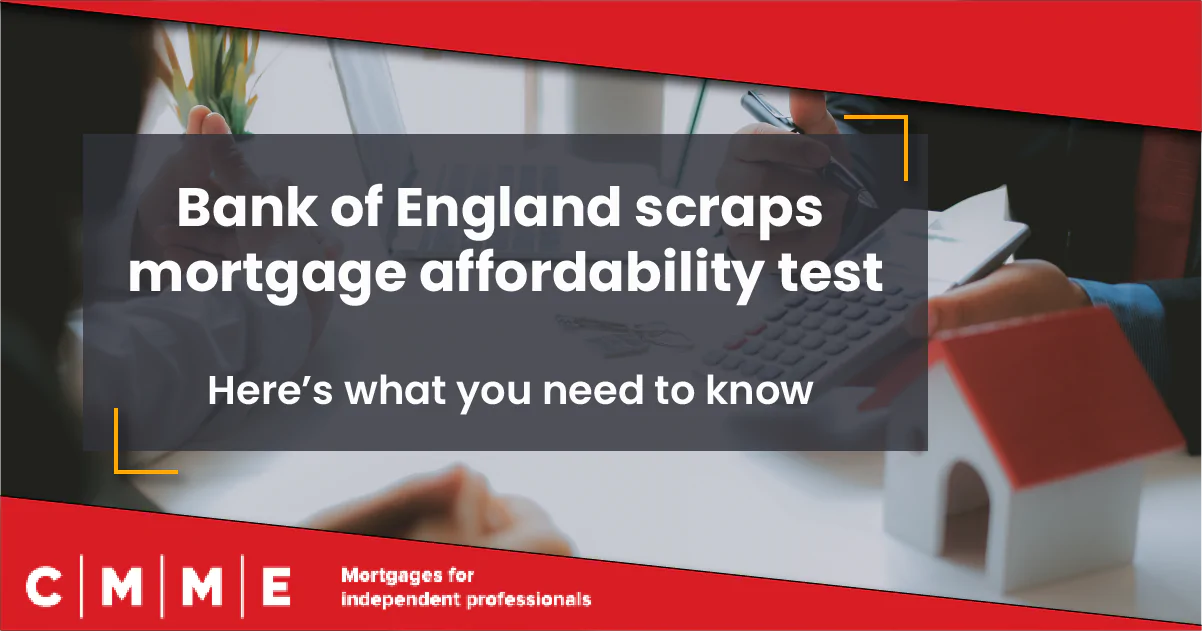 August 1st, 2022
Recent changes to the mortgage approval process are worth your attention if you're a self-employed person on the verge of making a mortgage application. Let's explore those changes.
The Bank of England's Financial Policy Committee (FPC) regularly reviews the mortgage market. In a review, the FPC expressed that the affordability stress test, one of two recommendations introduced in 2014 to uplift lowering standards among underwriters, was playing a weaker role in application assessments.
Now, the latest review unveils the complete removal of the stress test recommendation. This change comes into effect from 1st August, so if you plan to apply for a mortgage at any time after this date, you'll need to know what's going on.
What is this test, how will its removal impact independent professionals, and what happens next?
Understanding mortgage affordability tests
When you embark on the mortgage application journey, you'll soon encounter a mortgage affordability test or two. Assessments of this kind are designed, as you might be able to guess, to check that you're financially able to take on the responsibility of repaying the loan.
Affordability tests became more commonplace in the UK after the 2007-2008 global financial crisis threw many households' financial situations into turmoil. In 2014, the Bank of England introduced two recommendations designed to reduce risk and raise standards among lenders. They were:
A stress interest rate test that judged prospective borrowers on their ability to repay the mortgage, even if rates rose.
A loan-to-income (LTI) flow limit which capped the number of mortgages that could be offered to borrowers at LTI ratios of 4.5 or more. (Or – at more than 4.5 times annual income.)
What's changing from August 2022?
Regular reviews from the FPC have increasingly shown that the second recommendation – the LTI flow limit – is a more effective assessor of affordability than the stress test. They first consulted back in February about potentially dropping the test while still making the LTI recommendation, and the idea was widely backed as a good one.
According to the BOE's FPC, removing the stress test recommendation would maintain an 'appropriate level of resilience to the UK financial system' while simplifying mortgage rules to benefit borrowers and lenders alike.
As for how the change affects borrowers, you won't notice a drastic difference in the process because lenders won't need to make changes due to the dropped recommendation. Their existing checks should already comply with the FCA's responsible lending rules.
Basically: don't get too excited. The removal of stress tests won't result in a free-for-all approach to borrowing. There will still be plenty of other hoops to jump through to assess affordability.
But get slightly excited if you're desperate to get on the property ladder. Dropping this recommendation might help first-time buyers borrow more in the long run (although LTI restrictions will continue to bind lenders to some degree).
Preparing for your mortgage application
You'll still need to prepare for your mortgage application without a stress interest rate test to worry about.
The steps you'll need to take and the things you'll need to provide will differ between lenders. Generally speaking, however, you'll need to offer everything from proof of address to proof of income. And you'll be subject to a thorough review of your credit and financial history.
Simon Butler | Head of Mortgages CMME said "As mortgage rates continue to rise the implications for potential lenders mean that things will be getting more expensive when lending. Removing the test may help some potential borrowers get loans, such as contractors, self-employed or freelance workers. But other rules such as strict loan-to-income limits will not make it easier for most people to get a mortgage."
As a self-employed person, it's especially imperative that your finances are in order and that you can prove all that you need to before you make a mortgage application. It could make or break. Consider seeking the support of an accountant or asking for expert help from a broker specialising in contractor mortgages. Be ready for questions about:
Your employment status/ongoing contracts/client regularity
Any extra income that you're earning
Your household spending from month to month
Other everyday expenses you incur
The length of time it takes to be assessed will depend on the lender, but you can expect to wait for a decision for at least a couple of weeks once you've provided all the information required.
If, as a self-employed person, you're searching for mortgage application support, you're in the right place. Reach out to one of our advisers today and receive the expert advice and guidance you need to take your next steps.