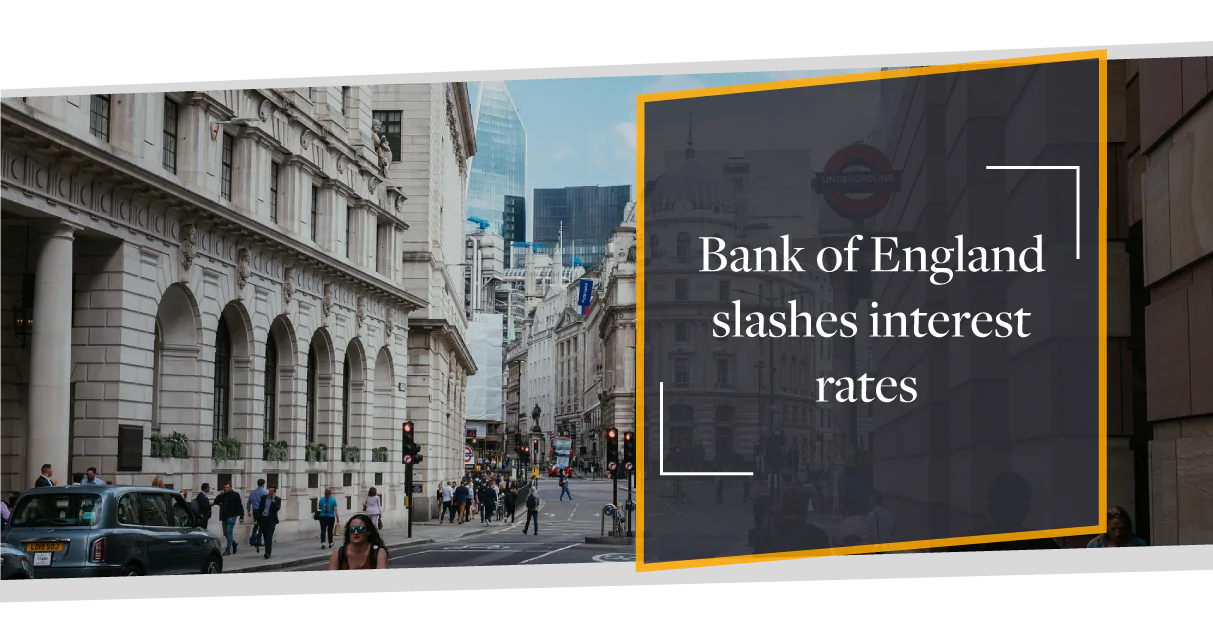 March 24th, 2020
The Bank of England has cut the base rate of interest for the second time this month in response to the coronavirus outbreak. The emergency reaction to the pandemic saw rates drop from 0.25% to 0.1%.
The base rate is the official borrowing rate set by the Bank of England – they use it to decide how much they will charge other banks and lenders who borrow money from them. It also impacts what borrowers pay and earns too. Many borrowers are now reviewing existing mortgages to consider the best way to take advantage of the rate cut, even those who are tied into early repayment charges for some time.
The quick decision was announced on Thursday 19th March, following a meeting of the Bank's Monetary Policy Committee (MPC). The MPC voted unanimously in favour of the drastic cut. This decision means that the base rate is the lowest it has ever been. The central bank will also increase its holding of UK government bonds and sterling non-financial investment-grade corporate bonds by £200 billion.
How will this impact mortgages?
This will impact mortgages in different types of ways – some mortgages will get cheaper as a result. This will vary depending on various factors including the type of mortgage you have.
Fixed mortgages – Rates will not change during the fixed period although many borrowers are hoping for a new wave of cheaper fixed-rate mortgages, lenders are unlikely to pass the cut onto borrowers with new lower rate fixed products.  There are concerns about the housing market and lenders' already-thin profit margins due to price wars fought on rates in recent months.
Standard variable rate (SVR) and 'discount' mortgages – Some lenders may reduce SVR or 'discount' mortgages – although this is far from guaranteed and will vary depending on the policies of individual lenders. Most people end up on SVR after your fixed or tracker mortgage finishes. A 'discount' mortgage follows the SVR at a set rate. SVRs can be expensive, so, if you are on one – it may be worth looking around at your other options (even if your rate gets cut).
Tracker mortgages – These types of mortgages follow the base rate set by the Bank of England and their rates will charge whatever base rate is set plus some additional margin. This means that your mortgage will fall at some point – so, it's important that you find out when that will happen. A small number of tracker mortgages will not see their rates drop, this is due to what is called a 'collar'. A collar prevents rates from falling from below a certain level. If you are impacted by this your lender will be in touch to let you know.
What are lenders doing about the base rate cut?
Yesterday (Thursday 19th March), Nationwide made the decision to withdraw all of its tracker mortgage products to new customers. This was decided after the Bank of England announced the second emergency base rate cut. Their competitors are likely to follow suit, making it important for borrowers to review mortgage options as early as possible.

Is now the right time to mortgage or renew your mortgage?
As with most things, it can often take some time for the end-user to get the benefits of a base rate drop, if it appears at all. Those who are on a tracker will notice a reduction soon if not already. Anyone with a mortgage should review options – even if penalty clauses exist as the currently low rates may make it cost-effective to pay the penalties and recoup savings via monthly payments being much lower  It may be worth speaking to a CMME advisor to explore all options.
Mike Coshott, CEO at CMME said:
"It is at this time, with so many unknowns, advice and timely reviews with an adviser are more important than ever. As most of our contractor clients will no doubt be facing some uncertainty, CMME wants to ensure that our clients have the peace of mind that their largest commitment is on the best possible terms for their circumstances. Being pro-active means you could reduce your mortgage payment to get some well-needed breathing space into your finances ".
You can also read about the government's action on IR35 due to the Coronavirus HERE