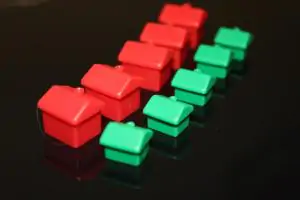 September 28th, 2015
The number of new homes built in 2015 is on course to beat the number of homes built in 2014, according to figures released by the National House Building Council (NHBC) this week.
NHBC, the industry leader in new-build house guarantee schemes, said that 106,887 homes had been registered in the first seven months of the year, 11% up on the same period last year.
"It has been clear for some time that there has been a housing shortfall in the UK" said Simon Butler, senior mortgage consultant at Contractor Mortgages Made Easy. "Whilst it looks like there will still be a sizeable deficit, at last it appears that supply is catching up with demand."
"If this rings true and 2015 is a better new build year than 2014, it would be the highest number of new homes built since before the credit crunch in 2007. A definite step in the right direction."
House building hit a 40-year low in 2013, with 135,000 homes built. This number increased to 140,000 in 2014, and a similar increase is expected for 2015.
NHBC affiliated builders account for around 4 in 5 of new homes built, and projects need to be registered prior to build work commencing.
The number of pre-build registrations has, however, fallen as the year has gone on.
"We are now seeing registration volumes fall in the public and affordable sector after a good start to the year" said NHBC chief executive Mike Quinton. "This may be due to housing associations holding back on developments in the light of welfare reforms and the cap on rental increases."
Lenders have traditionally had tighter loan-to-value (LTV) restrictions for new build property, with most asking for at least a 15% deposit for houses, and higher for apartments.
The Government backed 'Help to Buy' scheme helped change this, and now means that options are available to buyers even up to 95% LTV, as Simon Butler explains.
"The introduction of Help to Buy had two big impacts; it firstly reignited the new homes market in the UK, with more and more new build developments being built, and secondly it meant that those without the requisite deposit had options to buy a home, using either an equity loan or by way of shared ownership."
"The increase in the number of new homes being built is proof that Help to Buy has had a positive impact on the market, and with many more lending options for contractors now, both using Help to Buy and independent of it, there has never been a better time to look at home ownership."
Article By: Mark McBurney, Senior Mortgage Consultant at Contractor Mortgages Made Easy
Media Contact: Raman Kaur, Public Relations Manager
Tel: 01489 555 080
Email: media@contractormortgagesuk.com