As a contractor you may have encountered the bias that high street lenders may approach your borrowing abilities with and you'll probably have asked, how do contractors get a mortgage especially when so many don't understand your more complex income?
At CMME we've made it our business to make sure contractors are treated as fairly as possible when it comes to their mortgage applications, and we can help explain some of the hurdles you may face and, crucially, how to overcome them when it comes to your mortgage.

Why do contractors struggle?
There's a number of reasons contractors may struggle when it comes to their mortgage applications – disproportionately to those with conventional incomes. The self-employed sector now makes up a whopping 4,355,000 – arguably too many to still have to explain how your income works to high street lenders – at this significant number you should be able to approach your mortgage application without excess paperwork and hassle.
Historically, this is the main reason you may experience difficulties in your mortgage application as a contractor – a lack of understanding when it comes to non-standard methods of working and evidencing income. This doesn't mean you should be any less eligible to borrow but can often result in needlessly rejected applications, higher interest rates, and reduced borrowing potential when you aren't dealing with a specialist broker like CMME who understand your income.
If, like most people, your mortgage is a huge milestone, an indicator of your professional and personal success as well as being a significant financial commitment, the last thing you need is to be blind-sided by hurdles in your application. That's why we're giving you a heads up, so you can be prepared and get the specialist help you need to fulfil your mortgage potential.

Hurdles you may face
In our recent research with IPSE, we were able to identify areas of the mortgage process that self-employed professionals felt they particularly experienced difficulty with.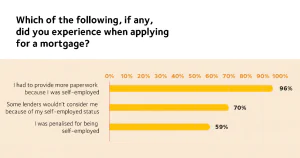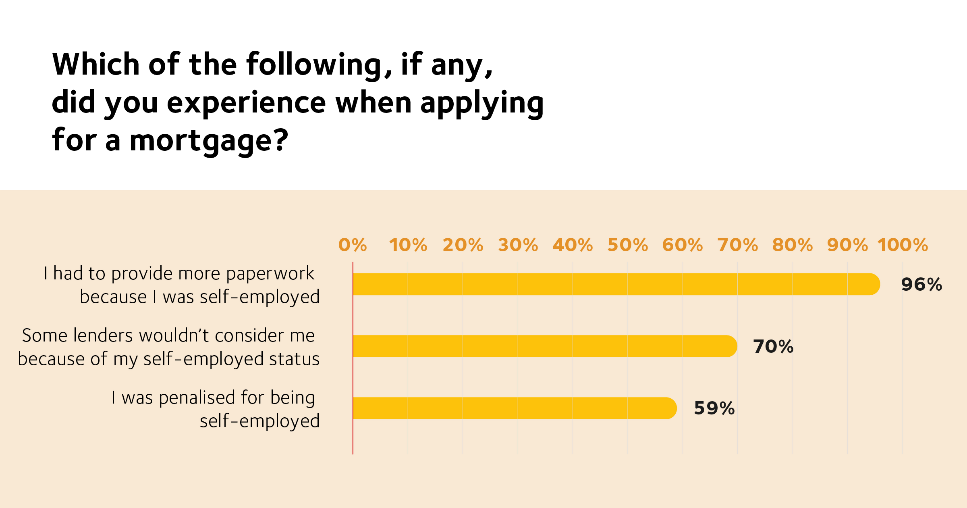 Whether you're looking at your first or fifteenth mortgage, it's worth being prepared to encounter these hurdles in order to best streamline the process, making it as stress free as possible for you.
A specialist broker will be in a better position to understand your requirements than a high street broker may be able to and help you navigate the process.

The impact of IR35
Undoubtedly, the changes to IR35 have impacted contractors and the way their income may be viewed when they're evidencing their payment structure. If your role has change thanks to IR35 you may be concerned about how you will be viewed by lenders. Here's a summary of what you might want to consider when you think about IR35 in relation to your mortgage:
To recap, from the government website, IR35 is summarised as: 
From 6 April 2021, all public sector clients and medium or large-sized clients outside the public sector are responsible for deciding your worker's employment status. 
This shift in focus to employers rather than contractors was delayed in 2020 in response to the Coronavirus pandemic. This provided contractors the chance to maintain their role or to secure another on more lucrative terms without having to account for the impact of Covid-19. 

The effects
Outside IR35 is what you might think of as the old way of contracting, if you are given this determination, it means that you are responsible for paying the correct amount of tax as will likely have been the case before the changes to IR35 were implemented in the private sector.  
Inside IR35 is, put simply, going to mean that you have to be processed by payroll somewhere; this could be through the company hiring your services, through an agency or through an umbrella company. 
It's important to note that for each assignment or contract you take on you will have a separate IR35 assessment, this means that even for existing clients a new determination will need to be made prior to the start of each contract.  
For your mortgage, it's worth thinking ahead about the evidence you may need to provide if you have experienced a role change. Many contractors that have experienced this process will be aware that lenders do not fully understand the process used by the umbrella companies and agencies to manage your income. 
This often leads to a request for: 
three months' payslips 

a P60 to be provided 
The issue with this is that a lender will only consider the basic pay received and evidenced on the payslip. Some umbrella firms choose to split the regular income to also include partial payments, such as holiday or commission payments. 
Mortgage lenders will often discount these payments when assessing your affordability and therefore the income used for assessment will not include the full pay received. This can dramatically decrease the level of lending available when applying for a mortgage. 
This is one of the many reasons it can be worthwhile for contractors to consider a specialist mortgage broker like CMME where using a bespoke process means that we can not only help you to raise the borrowing you require for a mortgage, but it also provides you with access to high street lenders and therefore gives you the range of low-level interest rates that would normally be unavailable when looking at a PAYE contractor mortgage. 

Credit scoring: a quick rundown
Your credit score is essentially the amalgamation of public records and other sources in order to generate a credit report about you and your financial reliability. It's used by lenders to help decide whether they should lend to you or not. So, whilst it sounds a bit daunting your credit score is something you have a degree of control over, and that starts with being aware of it. 
We recently asked Simon Butler, CMME's head of mortgages: What is the number one reason you see for applications getting declined?
He had this to say:
"It's probably due to credit. Most clients we work with haven't reviewed their credit files prior to contacting us, so I always remind the team to request a credit report before we proceed with an application. I cannot stress how important this and being open about the status of your credit file is, it can really make or break the opportunity to secure a mortgage.
You can read about understanding you credit score in our recent article – you're not alone 41% of Brits don't understand what a credit score is."