Do you know the latest tax changes to the buy to let mortgages?
Buy-to-let (BTL) property mortgages are for individuals who wish to purchase a property to rent out to others.
We've put together a guide to the latest in tax changes to buy-to-let mortgages.

What's in the guide?
Summary of changes
The current rules relating to finance costs
Who is affected?
Potential solution for landlords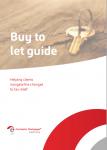 Summary of changes
In the Summer budget on 8th July 2015, the Chancellor announced a range of measures to reduce the Income Tax Relief available for mortgage costs incurred by landlords.
Changes take effect from 6th April 2017, which could havea considerable tax cost ramifcation for landlords and will invariably change the way many landlords choose to run their property portfolios.
Before making a decision around the future viability of buy to let, landlords will need to consider areas such as Income Tax, Corporation Tax, Stamp Duty Land Tax, Inheritance Tax and Annual Tax on Enveloped Dwellings (ATED), as all of these could impact the pro tability of the rental property.
CMME have developed a range of products to support clients with buy to let properties, or those who wish to purchase investment properties. This guide provides a brief outline
of those products along with a summary of the changes announced on 8th July 2015.
Under the current rules, the full amount of mortgage interest payments which are incurred wholly and exclusively for the purpose of the letting property can be deducted from the rental income received to reduce the taxable pro ts. Landlords may also claim for other allowable deductions such as insurance, ground rent, renewals, management fees, rates and professional fees.
These deductions reduce the rental income liable for Income Tax, where the property is owned personally.
The new rules
From the 6th April 2017, nance costs will cease to be a tax deductible expense for individual landlords. Instead, landlords will receive an e ective tax relief on their nance costs up
to the basic rate of Income Tax at 20%.
Landlords with a taxable income, inclusive of the gross rental income, in excess of the higher and additional rate tax thresholds will be required to pay the di erence between their marginal rate and the basic rate, e ectively equating to a 20% or 25% tax on the nance costs of individually owned buy to lets.
It is expected that clients with low yielding properties, particularly those with properties in the south of England and London, may see the tax they pay on their nance costs exceed their rental pro ts.
The reduction in tax relief will be phased in over a period of four years to minimise the impact on landlords.
Who is affected?
The changes apply to landlords who own a buy to let either individually, through a Limited Liability Partnership or a Simple Partnership.
The changes do not a effect properties owned through a company.
What this means for landlords
Landlords who will be subject to higher or additional rate tax will see a rise in their Income Tax liabilities in the years
after 2017.
Basic rate taxpayers may nd that the increase in taxable rental income moves them into a higher rate of tax and may also impact other allowances, such as entitlement to benefits.
What should landlords consider before incorporating?
Landlords considering incorporating existing rental properties, or purchasing new properties through a company, should consider the following across a range of different taxes:
Capital Gains Tax
Stamp Duty Land Tax (SDLT)/Land and Buildings Transaction
Tax (LBTT)
Inheritance Tax
Corporation Tax
Annual Tax on Enveloped Dwellings (ATED)
Capital Gains Tax (CGT)
The transfer of a property by an individual into a company which they control is a disposal at full market value for the purpose
of CGT. Landlords will therefore need to pay CGT on the full market value less purchasing costs.
Stamp Duty Land Tax (SDLT)
When transferring a property into a company, SDLT applies on the full market value of the property and may apply
to the aggregate value where more than one property is
to be transferred. On the 1st April 2016 a surcharge of 3% was introduced for the purchase of all buy to let properties with a value or purchase price over £40,000. This levy applies at each marginal rate of SDLT.
Inheritance Tax (IHT)
When a property is transferred into a company, the value
of the shares in that company form part of the individual's estate, as opposed to the value of the underlying property.
Whilst shares in a residential property investment company are within the scope of Inheritance Tax and do not qualify for business property relief, transferring property into a company may present an opportunity to reduce the value of their estate for Inheritance Tax purposes.
Corporation Tax
The pro ts made on properties transferred into a company will be subject to Corporation Tax which is currently 20% (falling
to 17% in 2020).
Whilst this may be more attractive than the tax position on individually owned buy to lets, landlords will need to consider the tax implications should they wish to draw the rental income out of the company – this will likely add a second layer of tax
in the form of dividends.
Annual Tax on Enveloped Dwellings (ATED)
Where a company owns a property worth £500,000 or more, the Annual Tax on Enveloped Dwellings may apply. There are special rules exempting certain properties and property-related activities, however where a property is deemed to fall inside the levy, the following taxes will apply:
Purchase of a property – The marginal Stamp Duty rates are replaced with a at rate of 15%, levied on the entire purchase price.
Disposal of the property – When a company disposesof an asset, the gains are normally subject to Corporation Tax. Where ATED applies, the net gains made may be subject to the principal's marginal rate of Capital Gains Tax.
This information is also available in a downloadable .pdf format. Request your copy below.